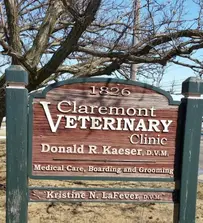 The Claremont Veterinary Clinic has been serving the area since 1958. We provide veterinary care for dogs , cats, horses, and cattle.
---
Dr. Donald R. Kaeser
Dr. Kaeser is a 1967 graduate of the Ohio State University College of Veterinary M
edicine. He is the owner of the Claremont Veterinary Clinic and has worked on a variety of animals over the years. He enjoys raising show cattle and spending time with his pets and trains in his time off. He recently took up banjo lessons and learned to play a banjo for the first time this past year. He enjoys keeping busy and interacting with his clients and patients and friends. He has six children of which his daughter Kristine decided to follow in his footsteps and become a ve
terinarian
as well. He has four step children as well as many grandchildren and great grandchildren.
---
Dr. Kristine LaFever
Dr. Kristine LaFever began her interest in veterinary medicine as a very young child when she would come to work with her father Dr. Donald Kaeser. She has been a veterinarian with her father's clinic since graduating from The Ohio State University College of Veterinary Medicine in June of 1996. Although she began working at he office as a young child cleaning cages and taking care of the animals and helping her father because she loved the profession of veterinary medicine and interacting with the clients and animals. She has three children and many pets including horses, cattle, pigs, dogs and cats. She loves what she does and knew that she wanted to be a veterinarian from a very young age while going to work with her dad. She enjoys working on a variety of animals. In her free time she enjoys spending time with her children, riding horses, spending time with her pets, planting and tending to her flowers, going to church and getting together with family.



---
Tiffany
Tiffany has been an employee of the clinic for 15 years. She is married to Brandon and lives in Ashland with her 2 schnauzers Noodle and Peanut . She has also done the grooming at the clinic for the past 7 years. She always knew she wanted to help with animals and be around them. She enjoys helping with surgeries and taking of the animals. If you can't find her she is usually in the back playing with the dogs and cats.
---
Yvette
Yvette has worked at the vet clinic since July of 2013. She married Kevin Hyatt on October 19th, 2012. She currently has 5 dogs, Jaegger, Journey, Jaxson, Willow and Avery Jo and 1 cat Rosie. Her dogs Jakers, Jazmine, Jasper, JJ, Jae-lo, Jeorgia and Oreo, who have all passed on are always still with her. She enjoys walking her own personal dogs and also volunteering and walking the dogs at the dog shelter. Yvette is very passionate about the non profit organization No Pawz Left Behind who she volunteers with also. When she is not volunteering, or working or taking care of her own dogs she likes to golf, bowl and go shopping. In her free time she also makes homemade dog treats for all the furry friends called Jake's Gourmet Dog Treats.
---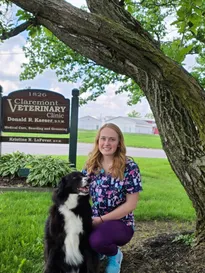 Destiny LaFever
Destiny LaFever is the daughter of Dr.Kristine LaFever and is going to be a senior at Crestview High School. She enjoys playing basketball and softball as well as showing market steers and market hogs. She is the Vice President of her FFA chapter and very involved in FFA and 4-H. She began coming to the office shortly after birth and has been around ever sense and now enjoys being able to do more around the clinic. She enjoys animals of all kinds and working in the family business. One day she hopes to become the third generation veterinarian in her family.
---

Macie
Hi! My name is Macie and I'm a Licensed Veterinary Technician at the Claremont Veterinary Clinic. I attended the Bradford Vet Tech Institute and graduated with my Associates of Applied Science in Veterinary Technology in 2019. I finished out my internship at Claremont and have been an employee here since March of 2019. The handsome boy in the picture with me is my dog Tucker, or Tucker David when I'm using my "mom voice". I also have a cat at home named Clare. I adopted her from the vet clinic when she came in with a litter of orphaned kittens, hence how she got her very original name. I may be young and just starting out my career, but I'm very passionate about what I do and promise to always give my best when it comes to the care and well being of your pets!

---
Elizabeth
Elizabeth is a senior at The Ohio State University majoring in Animal Science - Biosciences with a minor in Meat Science. She is from Coshocton, Ohio where her family raises beef cattle, swine and grain crops. Her hopes are to be accepted to The Ohio State University College of Veterinary Medicine to become a large animal veterinarian. She loves spending time with her yellow Labrador retriever Rosie.

---
Jess
Jess has a passion for working with animals. She is currently going back to school to be a veterinary technician and being a single mom to her daughter. In her spare time she likes to spend time with their goats and help mow lawns. She has 7 cats ( Squeaky, Skipper, Avery, Hershey, Skylar, Mittens, and Cannon). They also have 5 goats ( Keri, Kelsi, Diamond, Sapphire, and Phoenix).
---

This is Oliver, the clinic cat. He came to the clinic through the Ashland County Humane Society as a result of being abandoned by his owners years ago. His professional position at the clinic is to keep the seats warm for the clients but unfortunately he is reluctant to give them up after getting them warm. He enjoys interacting with people and their pets and feels the need to stay close to the sickest of our patients. We would like to think he is comforting them in their time of need. We appreciate all he does for our staff ,clients and patients as shown by our employees continued contribution to his obesity. He is being held by Destiny LaFever who frequently gets to come to work with her mom Dr. Kristine LaFever.